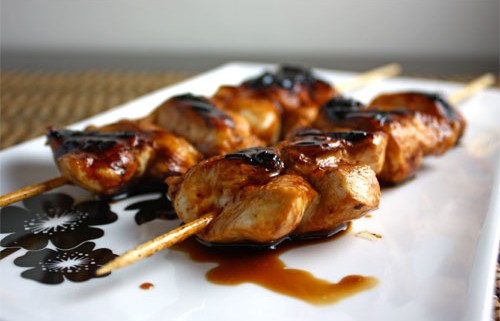 Ingredients
2 Tablespoon (Metric) Soy Sauce (salt reduced)
1 Tablespoon (Metric) Worcestershire Sauce
1 Tablespoon (Metric) Plum Sauce
2 Tablespoon (Metric) White Wine
1 Ginger (cube fresh sliced or 1 teaspoon ground)
2 Tablespoon (Metric) honey
1 Garlic clove (crushed)
500 Gram Chicken thigh fillets (cut into 3 pieces)
Directions
In a flat container, combine ingredients for the marinade. Add chicken.
Stir, cover and place in refrigerator to marinate for at least 2 hours (can be left for several hours or overnight).
Preheat chargrill pan, grill or barbecue until hot.
Remove chicken from dish and grill until cooked through.
Nutrition
Per serving:
Energy: 605kJ
Protein: 12g
Fat: 4g (Saturated fat 1g)
Carbohydrates: 11g
Sugars: 10g
Fibre: 0g
Sodium: 395mg
Calcium: 19mg
Iron: 1mg
Tips/Handy Hints:
 To create a full meal, serve with Gourmet Mixed Salad and a side of rice, cous cous or a potato salad.
This recipe uses chicken, but also works with pork, beef or tofu.
https://www.personalbestfitnessstudios.com.au/wp-content/uploads/2015/12/Yakitori.jpg
333
500
David Blair
http://www.personalbestfitnessstudios.com.au/wp-content/uploads/2015/10/pblogo.png
David Blair
2015-11-19 01:16:14
2015-12-23 01:25:22
Chicken Yakitori