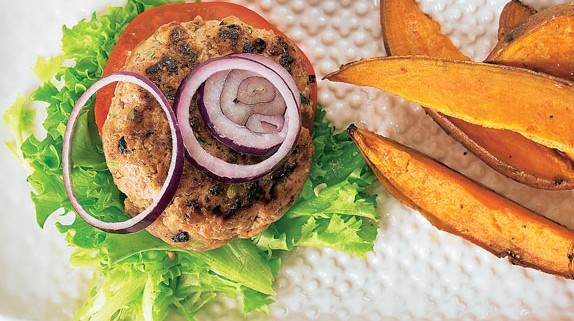 Ingredients
1 sweet corn cob (husked, silks removed)
400 Gram lean pork mince
2 Clove Garlic (finely chopped)
1 Cup firmly pack coriander leaves, finely chopped (plus extra leave to garnish)
2 large carrots (peeled, julienned)
1 long red chilli (finely sliced)
1 Cup bean sprouts (trimmed)
2 Tablespoon (Metric) gluten-free sweet chilli sauce
500 Gram sweet potato (peeled, cut into wedges)
olive oil spray
4 large flat mushrooms (trimmed)
1 Tablespoon (Metric) olive oil
Directions
Put corn in a small heatproof dish; cover and microwave on high for 2 minutes. Leave corn to cool, then slice off kernels with a sharp knife. Put kernels in a large bowl with pork mince, garlic and half the coriander; season with cracked black pepper and mix by hand to combine well. Wet hands and shape mixture into 4 patties (about 9cm diameter); refrigerate to chill for 20 minutes.
Meanwhile, combine remaining coriander with carrots, chilli, bean sprouts and sweet chilli sauce in a salad bowl; place in fridge.
Preheat oven to 200°C. Line a large baking tray with a sheet of baking paper. Place sweet potato wedges on tray in a single layer; spray with olive oil. Roast wedges, turning once, for 30–35 minutes, or until tender and golden.
Place a large non-stick frying pan over medium heat. Spray mushrooms with olive oil and cook for 2–3 minutes per side, or until just tender. Transfer cooked mushrooms to a plate and cover loosely with foil to keep warm.
Heat olive oil in the same frying pan. Add chilled pork patties and cook for 5–6 minutes per side, or until golden brown and cooked through. Transfer burgers to a plate lined with paper towel.
Top each mushroom with carrot salad and a pork burger; garnish with extra coriander leaves and serve with sweet potato wedges.
Nutrition
Energy: 1692kJ
Calories: 404cal
Protein: 29.5g
Fat: 12.7g
Saturated fat: 3.3g
Carbohydrates: 38.6g
sugars: 16.8g
Dietary Fibre: 8.6g
Sodium: 198mg
Calcium: 83mg
Iron: 4.0mg
https://www.personalbestfitnessstudios.com.au/wp-content/uploads/2015/12/turkey-burger.jpg
376
574
David Blair
http://www.personalbestfitnessstudios.com.au/wp-content/uploads/2015/10/pblogo.png
David Blair
2015-11-11 18:52:19
2015-12-23 01:25:22
Pork and Mushroom Burgers with Sweet Potato Wedges